>>> deutsch      >>> http://intersex.schattenbericht.org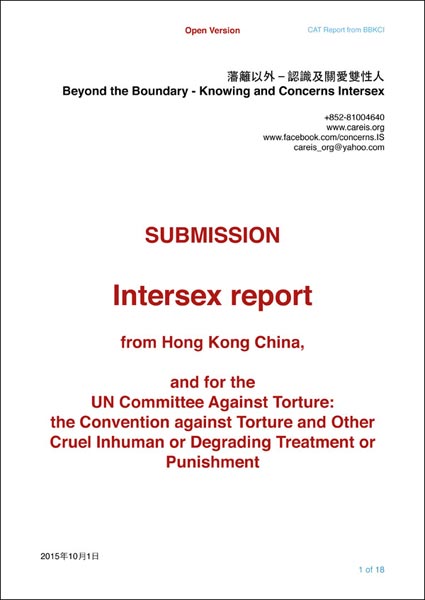 NGO Report to the 5th Periodic Report of Hong Kong + China on the Convention against Torture and Other Cruel, Inhuman or Degrading Treatment or Punishment (CAT)
Compiled by:
Beyond the Boundary - Knowing and Concerns Intersex (BBKCI)
CAT Chronology Hong Kong + China 2015:
Thematic NGO Report by BBKCI (see above)

>>>
Monday, 16 November 2015: Thematic Intersex Briefing during CAT Meeting with Hong Kong and Chinese NGOs (private)
>>> Tuesday 17–18 November 10–13h CET + Wedneday 18 November 15–18h CET: Review of Hong Kong + China (public), live transmission via http://www.treatybodywebcast.org/
>>> The Concluding Observations for Hong Kong and China will be published on (or soon after) 2 December on the CAT Homepage.
>>> In its 56th Session the Committee will also examine IGM Practices in Austria and in Denmark. This marks the very first time that IGM Practices are examined in more than one Country in a single Session of any UN Committee!