2019 CRC Malta Intersex NGO Report
By StopIGM.org on Wednesday, May 15 2019, 14:46 - CRC 2019 - Permalink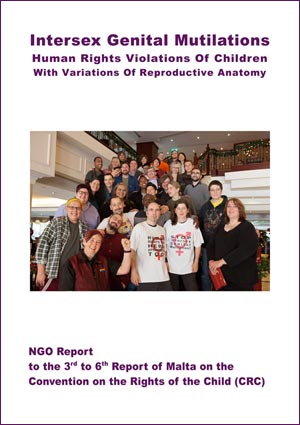 NGO Report (for Session) to the 3rd to 6th Report of Malta on the Convention on the Rights of the Child (CRC)

 
Compiled by:
StopIGM.org / Zwischengeschlecht.org

CRC Chronology Malta 2019
• Above April 2019 Thematic Intersex NGO Report documents that Malta's law does not live up to the promise of the government to "equalise the penalties applicable to intersex genital mutilation to the penalties applicable to female genital mutilation", but that serious gaps and legal loopholes persist, and provides solid evidence of how Government agencies, university hospitals and public as well as private health insurances continue to promote and facilitate IGM practices both domestically in Malta and overseas in contractual paediatric clinics.
• An article in the Times of Malta (15.05.2019) on our NGO report highlights Malta's lack of action regarding [WARNING!!!] IGM 1 "hypospadias repair surgery".
• During its 81th session, in May 2019 the Committee on the Rights of the Child (CRC) will examine the human rights record of Malta, to be transmitted LIVE on webtv.un.org!
   Session 1: Wed 15 May, 15-18h CEST
   Session 2: Thu 16 May, 10-13h CEST
StopIGM.org reported live from Palais Wilson, hoping for strong questions on intersex and IGM! Unsurprisingly, the Government officials flatly denied the practice and tried to sidestep the issue (but privately admitted IGM continues also domestically)
>>> Transcript Intersex Q&A
• After the Session, in June 2019 the CRC will publish its Concluding observations with binding recommendations for Malta – hopefully including yet another strong reprimand for IGM practices, and the very 1st one for Malta!