>>> deutsch      >>> http://intersex.schattenbericht.org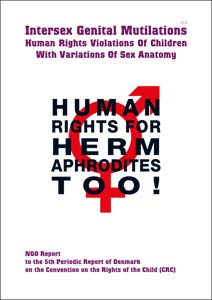 NGO Report to the 5th Periodic Report of Denmark on the Convention on the Rights of the Child (CRC)
 
Compiled by:
Ditte Dyreborg
StopIGM.org / Zwischengeschlecht.org

CRC Timeline Denmark 2015–16:
• 01 Nov 2016: Thematic NGO Report by Ditte Dyreborg / StopIGM.org (see above).
This report only contained information specific to Denmark and complements the thematic NGO report for the UK submitted for the 56th session containing the general information on Intersex, IGM Practices and why they are in breach of the Convention on the Rights of the Child.
• 10 Feb 2017: Unfortunately, the Pre-Sessional Working Group compilig the List of Issues (LoI) with questions for Denmark for the session did NOT include intersex or IGM.
• 15 August 2017: NGO Report for the Session (see here), complementing above 2016 Thematic NGO Report.
• Review of Denmark during CRC 76th Session:
   Fri 15 Sep 10-13h + 15-17h CET
   with Committee questions on intersex
   and shameful State non-replies ...
   >>> Video & Transcript Intersex Q&A
• 29 Sep 2017 or soon after: Concluding observations for Denmark, hopefully with another severe reprimand for IGM practices.