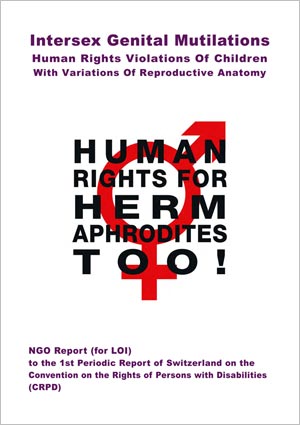 NGO Report (for LOI) to the 1st Periodic Report of Switzerland on the Convention on the Rights of Persons with Disabilities (CRPD)
Compiled by:
Zwischengeschlecht.org / StopIGM.org
Intersex.ch
SI Selbsthilfe Intersexualität
CRPD Timeline Switzerland 2019 – 2020:

• Above July 2019 NGO Report provides solid evidence of ongoing IGM practices in Switzerland (p. 18-27), no legal protections for children at risk (p. 10), no access to redress and justice for survivors (p. 26), and no psychosocial and peer support for intersex children and their families (p. 23), in clear contradiction to the previous 4 binding recommendations for Switzerland by UN Treaty bodies (p. 6-8).
Further, the Report documents how intersex children in Switzerland are traditionally considered as "invalids" (p. 21) and how consequently IGM practices in Switzerland are paid for by the "Swiss Federal Invalidity Insurance" (p. 18).
• During its 12th Pre-Sessional Working Group (PSWG) in September 2019, the Committee heard NGOs in a private meeting: Intersex Statement by StopIGM.org: DOCX (24 kb) | PDF (34 kb), and drafted the List of Issues (LOI) with questions for Switzerland, including strong ones about intersex and IGM under meaningful consultation, inhuman treatment, exploitation, violence and abuse, and integrity of the person (CRPD/C/CHE/Q/1, paras 1(b), 12(e), 13(e), 14(b)):
A.    Purpose and general obligations (arts. 1-4)


1.    Please provide information on:

    [...]


    (b)     Mechanisms established and the human and financial resources available at the federal, cantonal and municipal levels for meaningful consultation with persons with disabilities through their representative organizations, including persons with disabilities of diverse [...] sex characteristics, regarding the design and monitoring of legislation and policies aimed at implementing the Convention;

    [...]

Freedom from torture or cruel, inhuman or degrading treatment or punishment (art. 15)

12.     Please provide information on:

    […]

    (e)     Criminal and civil remedies available to persons with disabilities, including intersex persons, who have undergone involuntary sterilisation or unnecessary and irreversible medical or surgical treatment, procedures to access medical records and whether remedies are subject to any statutes of limitations.

Freedom from exploitation, violence and abuse (art. 16)

13.     Please provide information on:

    […]

    (e)    Measures taken to promote the physical, cognitive and psychological recovery, rehabilitation and social reintegration for intersex persons who have undergone involuntary procedures, including those who underwent irreversible surgical procedures as children with parental consent, and to ensure that such measures are covered by medical insurance.

Protecting the integrity of the person (art. 17)


14.     Please provide information on:

    […]

    (b)     Measures taken to ensure that no child is subjected to irreversible medical or surgical treatment during infancy or childhood (CRC/C/CHE/CO/2-4, para. 43(b)), (CAT/C/CHE/CO/7, para. 20(a)), (CEDAW/C/CHE/CO/4-5, para. 25(c)) (CCPR/C/CHE/CO/4, para. 25); and the number of irreversible surgical and other procedures that are performed on intersex children disaggregated by age and geographic location.
• Switzerland will now have to answer these questions in its Replies to the LOI.
• NGOs will then have another opportunity to submit NGO reports. Therafter, Switzerland will be examined during the 24th CRPD Session in Geneva from 17 August 2020 to 11 September 2020 – hopefully to be followed by yet another strong reprimand for IGM practices for Switzerland!