2020 CCPR Portugal Intersex NGO Report
By StopIGM.org on Thursday, March 5 2020, 22:58 - CCPR 2020 - Permalink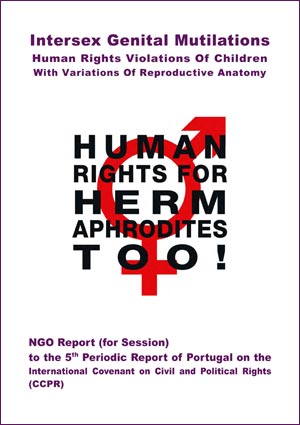 NGO Report (for Session) to the 5th Periodic Report of Portugal on the International Covenant on Civil and Political Rights (CCPR)

Compiled by:
StopIGM.org / Zwischengeschlecht.org


CCPR Timeline Portugal 2020
• Above February 2020 Thematic Intersex NGO Report (for Session) by StopIGM.org (INT/CCPR/CSS/PRT/41379) documents evidence demonstrating that all forms of IGM practices remain widespread in Portugal (p. 7-11). It further documents insufficient Government initiatives failing to effectively address these practices, namely how Law No. 38/2018 fails to effectively protect intersex children (p. 11-14), and contains Suggested Recommendations (p. 15).
• On March 5-6 2020, CCPR examined the human rights record of Portugal during its 128th Session in Geneva, asking tough questions on IGM and lack of access to justice for IGM survivors, to which the Portuguese delegation failed to give actual answers. >>> Full transcript of intersex Q&A + video links.
• After the Session, CCPR published its Concluding Observations with binding recommendations to Portugal – including yet another strong reprimand for IGM practices, marking the 50th UN reprimand for IGM, and already the 2nd to Portugal!