2016 CEDAW France Thematic Intersex NGO Report
By StopIGM.org on Monday, June 27 2016, 21:55 - CEDAW 2016 - Permalink
>>> deutsch >>> http://intersex.schattenbericht.org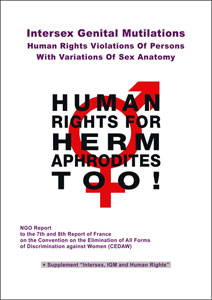 NGO Report to the 7th and 8th Periodic Report of France on the Convention on the Elimination of All Forms of Discrimination against Women (CEDAW)

>>> Download PDF (2.69 MB) | DOC (2.58 MB)

Compiled by:
StopIGM.org / Zwischengeschlecht.org
Nadine Coquet • Vincent Guillot
Above NGO Report (INT/CEDAW/NGO/FRA/24296) is the first report on IGM as a harmful practice in violation of CEDAW Article 5 in conjunction with General recommendation No. 31, both requiring legislation to end the practice and to ensure access to redress and justice for IGM survivors.
It contains an updated bibliography of human rights bodies verdicts and NGO reports, and 2 case stories of IGM survivors from France.
Timetable CEDAW Review of France July 2016:
• NGO Briefing France (public): Mon 4 July 2016 3 – 4:30 p.m.
>>> Intersex Statement | Français
• NGO Lunch Time Briefing (closed): Thu 7 July
• Review of France: Fri 8 July 2016, 10–13h CET + 15-17h CET
– to be broadcasted live via treatybodywebcast.org!
• The Concluding Observations for France, hopefully with another severe reprimand for IGM practices, are due at the end the 64th Session of CEDAW (22 July 2016).