2016 CEDAW Germany PSWG Intersex NGO Report
By StopIGM.org on Monday, July 25 2016, 21:44 - CEDAW 2016 - Permalink
>>> deutsch      >>> http://intersex.schattenbericht.org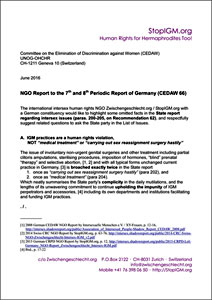 NGO Report to the 7th and 8th Periodic Report of Germany on the Convention on the Elimination of All Forms of Discrimination against Women (CEDAW)

  
  
Compiled by:
StopIGM.org / Zwischengeschlecht.org

In 2009, CEDAW was the first UN treaty body to include intersex in Concluding Observations (though not IGM). Germany now mentioned intersex in their follow-up report, to which this NGO report for the List of Issues (LoI) to be formulated during the Committee's Pre-Sessional Working Group (25 Jul 2016 - 29 Jul 2016) relates.
• NGO Pre-Session Briefing Germany: Mon 25 July 2016 from 11:30–12:30 CET
• Review of Germany: Upcoming 66th CEDAW Session (13 Feb 2017 – 03 Mar 2017)
• The Concluding Observations for Germany, hopefully with another severe reprimand for IGM practices, are due at the end the 66th Session (03 March 2017).