2018 CEDAW Nepal LOI Intersex NGO Reports
By BM167-GANDI on Tuesday, March 20 2018, 12:13 - CEDAW 2018 - Permalink
Joint Intersex NGO Oral Statement
CEDAW 71st PSWG Nepal, 12.03.2018
 
Compiled by:
Esan Regmi, Parsu Ram Rai
StopIGM.org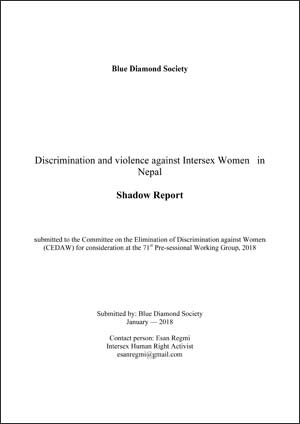 NGO Report (for LOI) to the 6th Report of Nepal on the Convention on the Elimination of All Forms of Discrimination against Women (CEDAW)

Compiled by:
Blue Diamond Society / Esan Regmi
  
Endorsement and Substantiation of Nepal Intersex NGO Report (CEDAW 72 PSWG)

Compiled by:
StopIGM.org /
Daniela Truffer, Markus Bauer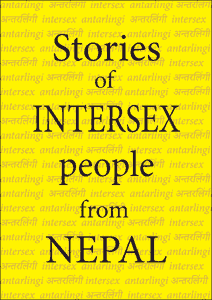 Stories of Intersex People from Nepal
   
Compiled by:
Esan Regmi
Translated by:
Parsu Ram Rai
 

  "Intersex Genital Mutilations, Stigma and Bullying in Nepal"
   1.  Background: 1st Intersex Workshop, Intersex Stories, 2016 CRC NGO Report
   2.  Intersex Genital Mutilations in Nepali Paediatric Hospitals
        a) IGM in Publications by Doctors and Hospitals
        b) IGM in Witnesses Accounts
   3.  Denial of Needed Health Care
   4.  Stigma, Bullying and Isolation 
  

CEDAW Timeline Nepal 2018

• In March 2018, CEDAW published its List of Issues (LOI) for Nepal (PDF) with questions to the Nepali Government, including a question on intersex (para 8 (d)):

Stereotypes and harmful practices

[...]
8.   The report indicates that the State party, in collaboration with civil society organisations, is implementing campaigns to address a number of harmful practices such as forced and early marriages and accusations of witchcraft (boxi) (para. 27). [...] Please also provide information on [...] (d) measures being taken to address forced inter-sex genital mutilation and discrimination against inter-sex persons, including reported cases of abuse, infanticide and forced marriage.
This marks the first time that any UN Committee
explicitly addressed infanticide and forced marriage
of intersex persons!
• The Government has now to submit written answers to the questions in the LOI. Thereafter, Nepal will be examined at the 71th CEDAW session in Geneva (22 October – 09 November 2018), during 2 meetings with oral questions by the Committee and replies by the Nepali delegation, to be transmitted LIVE on webtv.un.org.
>>> Full Timeline CEDAW Nepal: March-Dec 2018