2018 CAT Denmark LoIPR Intersex NGO Report
By StopIGM.org on Wednesday, February 7 2018, 11:49 - CAT 2018 - Permalink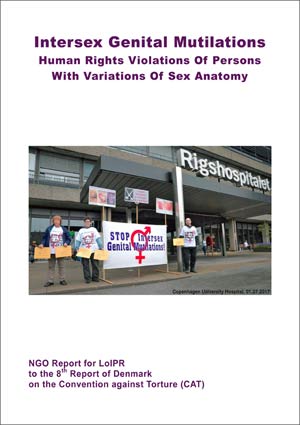 NGO Report (for LoIPR) to the 8th Periodic Report of Denmark on the Convention against Torture (CAT)
 
Compiled by:
StopIGM.org / Zwischengeschlecht.org
Ditte Dyreborg

CAT Timeline Denmark 2018 – ca. 2020
• January 2018: Thematic Intersex NGO Report (above) collecting compelling evidence of the ongoing practice in Denmark, and the complete failure by the Danish Government to implement the strong binding CAT recommendations on intersex and IGM from the CAT Concluding Observations of the previous cycle (2015). Since then, Denmark was additionally also unmistakably reprimanded for IGM by the UN Committee on the Rights of the Child (CRC) (2017).
• May 2018: List of Issues prior to Reporting (LoIPR) with questions for Denmark drafted by CAT during its 63rd session contains strong questions for Denmark on Intersex and IGM (CAT/C/DNK/QPR/8, paras 32-33)!
• December 2019: Deadline for the State report of Denmark to address the questions in the LoIPR.
• ca. 2020: Review of Denmark by CAT during a session in Geneva, hopefully followed by binding Concluding Observations containing yet another severe reprimand for IGM practices!