2017 CEDAW Ireland Thematic Intersex NGO Report
By StopIGM.org on Friday, January 27 2017, 20:50 - CEDAW 2017 - Permalink
>>> deutsch      >>> http://intersex.schattenbericht.org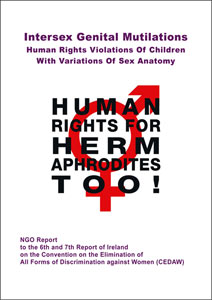 NGO Report to the 6th and 7th Periodic Report of Ireland on the Convention on the Elimination of All Forms of Discrimination against Women (CEDAW)

  
  
Compiled by:
StopIGM.org / Zwischengeschlecht.org

In 2009, CEDAW was the first UN treaty body to include intersex in their Concluding Observations for Gemany (though not IGM). This Thematic CEDAW NGO Report for Ireland builds on the previous 2015 Report to CRC who already reprimanded Ireland for IGM practices.
• NGO Briefing Ireland (public): Mon 13 Jan 15:00-16:15h CET 
   >>> Intersex NGO Statement+ Video
• NGO Lunch Time Briefing (closed): Tue 14 Jan
• Review of Ireland: Wed 15 Jan 10-13h + 15-17h CET
   >>> Intersex Q&A Transcripts + Video
• The Committe issued >>> Concluding Observations on IGM as a "harmful practice".