2017 CAT New Zealand LoIPR Intersex NGO Report
By StopIGM.org on Saturday, January 21 2017, 04:56 - CAT 2017 - Permalink
>>> deutsch      >>> http://intersex.schattenbericht.org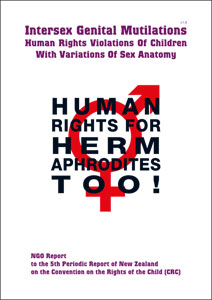 NGO Report for the LOIPR for New Zealand
on the Convention against Torture (CAT)

Compiled by:
StopIGM.org / Zwischengeschlecht.org

Intersex, IGM practices, the above thematic report, and the intersex report by Intersex Trust Aotearoa New Zealand (ITANZ) were
mentioned under art. 16 in the List of Issues Prior to Reporting (LoIPR), para 32
, i.e. in the initial List of Questions of the Committee to the State party, drafted during the 60th CAT session.

>>> CAT60 Session homepage with all documents
Next, New Zealand will now have to provide written answers in its State report.
Then NGOs and NHRIs can submit update reports, and finally the Committe will review New Zealand in Geneva, hopefully with togh questions on intersex and IGM, followed by strong Concluding observations (with binding recommendations to the State party).