2019 CCPR Spain LOIPR Intersex NGO Report
By seelenlos on Sunday 15 September 2019, 21:21 - CCPR 2019 - Permalink
[ Español ]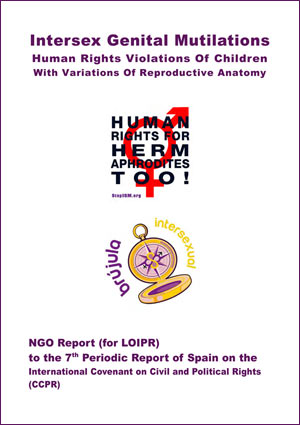 NGO Report (for LOIPR) to the 7th Periodic Report of Spain on the International Covenant on Civil and Political Rights (CCPR)
>>> Español (PDF 670 kb)
>>> English (PDF 377 kb)

Compiled by:
StopIGM.org / Zwischengeschlecht.org
Brújula Intersexual

CCPR Timeline Spain 2019 – ca. 2021:

• Above August 2019 NGO Report provides solid evidence of ongoing IGM practices in Spain.
• During its 127th Session in November 2019, the Committee will draft the List of Issues (LOIPR) with questions for Spain, hopefully including strong ones about intersex and IGM.
• Spain will then have to answer these questions in its State Report.
• NGOs will then have another opportunity to submit NGO reports. Therafter, Spain will be examined in Geneva, arguably in 2021 – hopefully to be followed by yet another strong reprimand for IGM practices for Spain!