2017 CEDAW Germany Thematic Intersex NGO Report
By seelenlos on Friday 27 January 2017, 20:37 - CEDAW 2017 - Permalink
>>> deutsch      >>> http://intersex.schattenbericht.org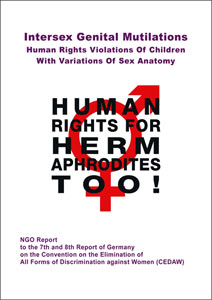 NGO Report to the 7th and 8th Periodic Report of Germany on the Convention on the Elimination of All Forms of Discrimination against Women (CEDAW)

  
  
Compiled by:
StopIGM.org / Zwischengeschlecht.org

In 2009, CEDAW was the first UN treaty body to include intersex in their Concluding Observations for Gemany (though not IGM). This time, after our PSWG Report and Briefing, CEDAW already included specific questions to Germany on intersex and IGM in their List of Issues (LOI).
• 2016 PSWG Intersex NGO Report
• NGO Pre-Session Briefing Germany: Mon 25 July 2016 from 11:30–12:30 CET
• Review of Germany: Upcoming 66th CEDAW Session (13 Feb 2017 – 03 Mar 2017)
• The Concluding Observations for Germany, hopefully with another severe reprimand for IGM practices, are due at the end the 66th Session (03 March 2017).