2017 CAT Argentina Thematic Intersex NGO Report
By StopIGM.org on Thursday, March 23 2017, 13:16 - CAT 2017 - Permalink
>>> deutsch      >>> http://intersex.schattenbericht.org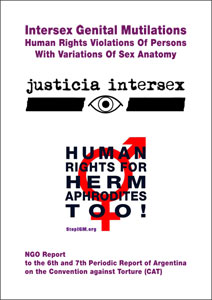 NGO Report to the 6th and 7th Periodic Report of Argentina on the Convention against Torture and Other Cruel, Inhuman or Degrading Treatment or Punishment (CAT)

Compiled by:
Justicia Intersex
StopIGM.org / Zwischengeschlecht.org

CAT Timeline Argentina 2017:
• 20 March 2017: Thematic NGO Report by Justicia Intersex / StopIGM.org for the 60th CAT session (see above). This report only contains information specific to Argentina and complements the thematic NGO report for France submitted for the 56th session containing more general information on Intersex, IGM Practices and why they are in breach of the Convention against Torture.
• Tue 25 April 2017, 17–18h CET: NGO Briefing (closed).
• Wed 26 April 2017, 10–13h CET + Thur 27 April 2017, 15–18h CET:
   Review of Argentina during the 60th CAT Session,
    >>> VIDEO + TRANSCRIPT INTERSEX Q&A | >>> Full Session Report
• Unfortunately, the Concluding observations for Argentina did NOT raise intersex or IGM.