2018 CRC PSWG Belgium Intersex NGO Report
By StopIGM.org on Thursday, March 29 2018, 18:42 - CRC 2018 - Permalink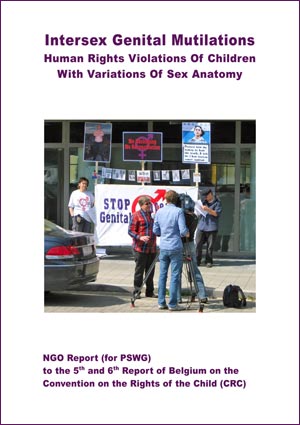 NGO Report (for PSWG) to the 5th and 6th Report of Belgium on the Convention on the Rights of the Child (CRC)

  
Compiled by:
Thierry Bosman
StopIGM.org / Zwischengeschlecht.org

CRC Timeline Belgium 2018-19
• Above March 2018 NGO Report (for PSWG) provides solid evidence of ongoing IGM practices in Belgium, advocated and paid for by the State party. In addition, it shows that also children from neighbouring Luxembourg are sent to Belgium for IGM practices.
• In June 2018 during the CRC80 Pre-Sessional Working Group, the Committee heard NGOs in a private meeting. From the Joint Intersex PSWG NGO Statement 04.06.2018:
[...] As our NGO report proves, today Intersex Genital Mutilations are still practiced in Belgium, paid for by the public health system. And also intersex children from Luxembourg are sent to Belgium for surgery. [...] What's more, it is my understanding that the Ghent university hospital is actively recruiting foreign intersex children from waiting lists of NHS clinics in the UK, including children from Malta. [...]
• The Committee then drafted the List of Issues (LOI) with questions for for Belgium, which was published in July 2018 and includes a good question on intersex and IGM (CRC/C/BEL/Q/5-6, para 8):
8. [...] With respect to paragraphs 133 to 135 of the State party's report, please provide information on the progress made in eliminating harmful practices such as female and intersex genital mutilation and child marriage.
• The State party has now to answer to the LOI in writing. Thereafter, NGOs will have another possibility to submit NGO reports.
• Finally the actual State review will take place in January 2019 Geneva, hopefully followed by yet another strong reprimand for IGM practices for Belgium.