2018 CEDAW Liechtenstein Intersex NGO Report
By StopIGM.org on Friday, July 13 2018, 00:51 - CEDAW 2018 - Permalink
>>> deutsch      >>> http://intersex.schattenbericht.org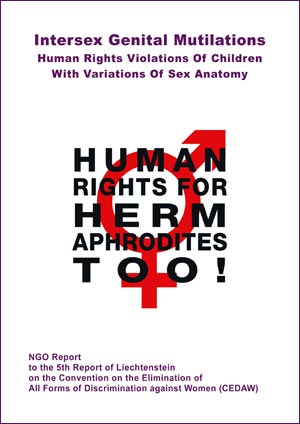 NGO Report to the 5th Periodic Report of Liechtenstein on the Convention on the Elimination of All Forms of Discrimination against Women (CEDAW)

Compiled by:
StopIGM.org / Zwischengeschlecht.org

CEDAW Timeline Liechtenstein July 2018:
• NGO Briefing Liechtenstein (public): Mon 2 July 16-17h CEST 
   >>> Intersex NGO Statement (PDF) | UN Web TV (@ 44:45)
• Review of Liechtenstein: Thu 5 July 10-13h + 15-17h CEST
   – to be transmitted LIVE on webtv.un.org!
• YAY!! The Concluding Observations for Liechtenstein (and Mexico, New Zealand and Australia) include yet another reprimand for IGM practices for each country.