2016 CEDAW Netherlands Intersex NGO Report
By StopIGM.org on Friday, September 30 2016, 00:41 - CEDAW 2016 - Permalink
>>> deutsch      >>> http://intersex.schattenbericht.org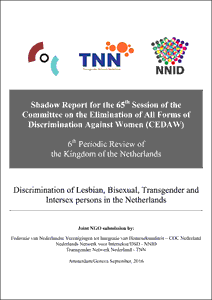 NGO Report to the 6th Periodic Report of the Kingdom of the Netherlands on the Convention on the Elimination of All Forms of Discrimination against Women (CEDAW)
Compiled by:
COC Nederland
Nederlands Netwerk voor Intersekse/DSD (NNID)
Transgender Netwerk Nederland (TNN)
Paras 34-41 on p. 13-16 of above report include the relevant sections on "Violence against and ill-treatment of intersex children" (paras 34-38) and "Remedies for violations of the rights of intersex persons" (paras 39-41).

Timetable CEDAW Review Netherlands Nov 2016:
• Review of the Netherlands: Thu 10 Nov 10-13h + 15-17h CET
   – Transcript + Podcast!
• The Concluding Observations for the Netherlands (and CH), hopefully with another severe reprimand for IGM practices, are due at the end the 65th Session of CEDAW (18 November 2016).